Recent Updates
Feb 20, 2023 Papers should be submitted here
Feb 7, 2023 Please check out this page for information on paper submission.
Feb 7, 2023 Rankings are out.
Jan 25, 2023 Evaluation phase is extended by 24 hours. This phase will end on February 1st 11:59 pm AOE.
Jan 25, 2023 Evaluation phase site with test data is available in Codalab.
Jan 18, 2023 Practice phase site on Codalab is open now.
Important Dates
Trial Data Ready
Jul 15 (Fri), 2022
Training Data Ready
Sep 30 (Fri), 2022
Evaluation Start
Jan 25 (Wed), 2023
Evaluation End
Feb 1 (Wed), 2023
System Description Paper Submission Due
Feb 28 (Tue), 2023
Notification to Authors
Mar 31 (Fri), 2023
Camera-ready Due
Apr 21 (Fri), 2023
Workshop
13-14 July 2023 co-located with ACL

* All deadlines are calculated at 11:59 pm
UTC-12 hours
Complex named entities (NE), like the titles of creative works, are not simple nouns and pose challenges for NER systems (Ashwini and Choi, 2014). They can take the form of any linguistic constituent, like an imperative clause ("Dial M for Murder"), and do not look like traditional NEs (Persons, Locations, etc.). This syntactic ambiguity makes it challenging to recognize them based on context. We organized the MultiCoNER task (Malmasi et al., 2022) at SemEval-2022 to address these challenges in 11 languages, receiving a very positive community response with 34 system papers. Results confirmed the challenges of processing complex and long-tail NEs: even the largest pre-trained Transformers did not achieve top performance without external knowledge. The top systems infused transformers with knowledge bases and gazetteers. However, such solutions are brittle against out of knowledge-base entities and noisy scenarios like the presence of spelling mistakes and typos. We propose MultiCoNER II which represents novel challenges through new tasks that emphasize the shortcomings of the current top models.
MultiCoNER II features complex NER in these languages:
English
Spanish
Hindi
Bangla
Chinese
Swedish
Farsi
French
Italian
Portugese
Ukranian
German
The following figure shows the fine-grained taxonomy of the dataset.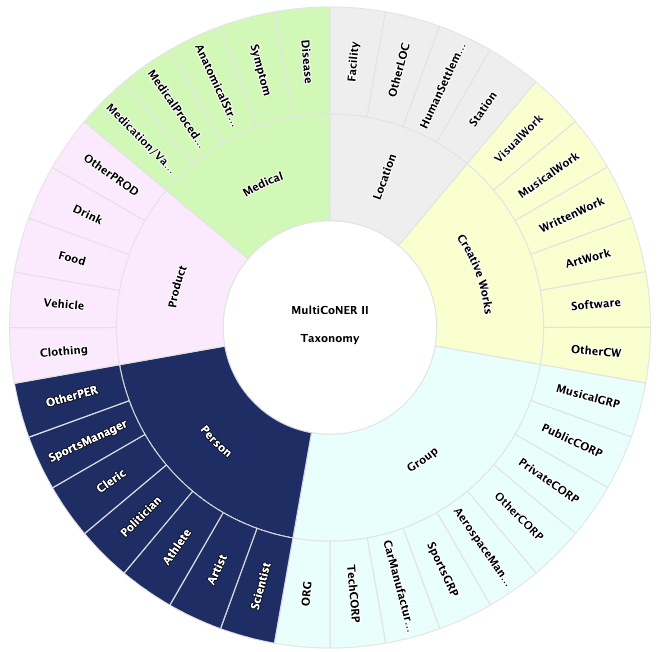 MultiCoNER I: SemEval 2022 Task 11
References
Communication
Anti-Harassment Policy
SemEval highly values the open exchange of ideas, freedom of thought and expression, and respectful scientific debate. We support and uphold the NAACL Anti-Harassment policy. Participants are encouraged to send any concerns or questions to the NAACL Board members, Priscilla Rasmussen and/or the workshop organizers.